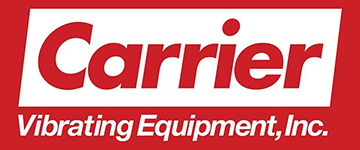 Read the Carrier Vibrating Equipment, Inc. whitepaper on vibrating fluid bed dryers.
---
Understanding the differences between a conventional fluid bed dryer and a vibrating fluid bed dryer—and how they affect your materials—will help you determine if you need a vibrating fluid bed dryer. As you might imagine, both machines are used to remove moisture from large amounts of almost any material. The choice between the two will depend on the type and
quantity of material you need dried.

Before choosing, you'll need to consider several things:
Industry production methods
Fragility and temperature of materials
Space and utilities available
Operational costs
The vibrating fluid bed dryer is perfect for several different industries, including those that use chemical compounds, minerals and ores, frac sand, polymers and plastics, and even food and dairy. The benefits of the vibrating fluid bed dryer with chemical compounds is that it's perfect for temperature-sensitive materials. With minerals and ores, you can take advantage of this
dryer's high-temperature processing options and the ability to process particles of wide-ranging sizes. In the food and dairy industry, this machine is beneficial because it provides sanitary processing and easy cleaning. With polymers and plastics, the vibrating fluid bed dryer works well with sticky materials.
Many materials can be processed with this particular piece of equipment including plastic pellets, pelletized minerals, pharmaceuticals and chemical compounds, coal, pet foods, fertilizer, salt, crumb rubber, wood, glass, clay, and more.
In many cases, the conventional fluid bed dryer will be sufficient. However, there are several materials that simply won't work well with the conventional dryer. This is where you'll begin to consider your production methods and temperatures.
Materials that have varying particle sizes may not work well with the conventional fluid bed dryers. However, the vibrating fluid bed dryer will help to discharge larger particles that will not fluidize.
If you're working with materials that are sensitive to high temperatures, the vibrating fluid bed dryer is the better choice. A sub-fluidized condition can be created, which eliminates discoloration from burning individual particles.
The conventional fluid bed dryer could also damage fragile materials, which makes the choice for a vibrating fluid bed dryer easy. The low amplitude vibration and reduced fluidizing velocity makes for a gentler bed, resulting in less degradation of materials.
When considering the space and utilities available, the vibrating fluid bed dryer may also come out on top for several reasons. First, lower fluidizing velocities are required, making this system more energy efficient. It's also easier to clean and maintain, which saves time and manpower.
The recirculated gas and closed-loop recirculation systems operate more efficiently and to energy savings. Zoning within the fluid bed also allows for multiple functions to be performed in a single unit, optimizing efficiency for material processing.
When choosing between a standard dryer and a fluid bed system, you don't have to decide on your own. The representatives at Mills-Winfield are available to help you find the equipment that will lead to your success.