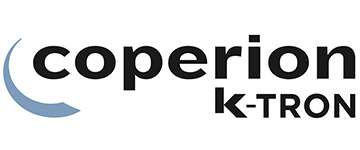 Read the Coperion whitepaper on feeding, material handling and extrusion in the manufacture of meat analogues.
---
Mills-Winfield is a proud supplier of Coperion and Coperion K-Tron equipment. Coperion, headquartered in Stuttgart, Germany, manufactures extrusion equipment and has long been the choice of many processing organizations around the world, including the German Institute of Food Technologies.
By understanding the various advantages offered by Coperion Extruders, you may make better decisions for your food and chemical processing plant. Here are some of the advantages you might consider.
Engineered Material Handling and Feeding Solutions
In a continuous extrusion line, delivery of each ingredient to the extrusion process is critical to process stability and product quality. For this reason, Coperion teams with their sister company, Coperion K-Tron to supply highly accurate gravimetric feeders. These feeders do not weigh the flow; they deliver a certain volume of material per unit time, and the calibration process delivers a weight-based flow.
To address issues caused by materials that may not flow as well as others and improve the ease of cleaning the feeder and hopper, Coperion K-Tron developed the ActiFlow® bulk solids activator. ActiFlow eliminates the need for traditional vertical agitation or flex wall agitation in LIW feeders. Once the ActiFlow controller detects a potential problem with material flow, vibration is applied to the hopper and is continually adjusted to move material efficiently, improving feeder performance.
Experience In Hygienic and Sanitary Design Standards
Coperion K-Tron also supplies pneumatic conveying systems and material handling components. They design systems that transfer raw ingredients prior to extrusion as well as for the transfer of the extruded product exiting the pelletizer or cooling die. These conveying systems can be either positive pressure or vacuum.
Positive pressure conveying systems transport bulk materials over long distances and at high throughputs. Applications which involve pressure conveying often include loading and unloading of silos, cyclones, railcars, trucks, bulk bags, and other high-volume containers.
Vacuum, or negative pressure, systems are used for lower volumes and shorter distances. Vacuum systems also offer the option for multiple pickup points, though distances and throughputs may be limited due to the amount of vacuum that can be created. One of the advantages of vacuum systems is the inward suction created by the vacuum blower and reduction of any outward leakage of dust. Vacuum systems are often used in higher sanitary or dust containment applications.
Highest Degree of Accuracy in Ingredient and Product Delivery
Dry bulk feeding isn't the only option available. Liquids can also be introduced using a Coperion K-Tron liquid feeder. Liquids are fed by a piston pump with a variable speed drive. The mass flow rate is then controlled by placing a liquid tank on a weigh scale and using the same algorithm for powder feeding. Instead of changing the screw speed, the same signals are used to control the pump speed or stroke to increase or decrease the throughput flow rate.
The benefits of this gravimetric arrangement as opposed to a mass flow meter include easier calibration, and most importantly, higher accuracy in feed and control.
ZSK Extruders Ensure Maximum Throughput
The process section of Coperion's highly efficient ZSK Mv PLUS twin-screw extruder is designed as a modular system that consists of several barrels in which the co-rotating screws operate. Different screw elements can also be combined individually for flexibility in the extrusion process.
In addition, direct steam injection into the extruder is often done to reduce the mechanical energy input and increase the thermal energy input by process volume. For direct steam injection continuous temperature, pressure and flow velocity measurements of the hot steam are used instead to achieve high accuracy. Control of the feed rate is done by an automatic valve that regulates the flow.
These advantages are available to you with Coperion machinery. Reach out to a Mills-Winfield representative to revolutionize your materials processing strategy.